How To Get The First 1000 Visitors To Your Lifestyle Blog
So, you've successfully set up your lifestyle blog, and maybe you've posted a few things.
But you've probably noticed that no one is even coming to your website.
Many bloggers dream of driving tons of traffic to their site and are disappointed when it doesn't happen right away.
Well, not to worry – in this guide, you will find several strategies to help you get the first 1,000 visitors to your website. And, it's not as hard as it sounds! Let's get going.
Publish More Content And Get More Traffic
If you've already started publishing content to your blog, keep going and don't stop.
Once you start growing your reader base, you'll see the demand for your content skyrocket. So, it's critically important that you get in the habit of publishing regularly now, even if no one is coming to your website yet.
New content alerts people to the fact that you're keeping up with your blog, and it continually drives traffic to your website – especially if you're sharing your posts on social media (more on that in a moment).
Look at every piece of content you publish as a new opportunity. You just never know which article will connect with your readers, and one person's entry point will probably be different from another.
Additionally, the more quality articles you have on your website, the more content you have that has the potential to go viral and rank in search engines. That's a big deal.
But keep in mind that this is not a promise. You can't control which articles have greater reach and which don't. Even if you think you know your audience, you might be surprised by the posts that people share and comment on versus those they end up ignoring.
As for search engines, don't focus too heavily on keywords. Focus more on writing quality content you know your audience wants to read. The more time people spend on your website, the greater weight search engines will give to your website in their rankings.
Social Media Is A Key Source Of Visitors For Lifestyle Websites
Every post you publish should be shared on social media. This can extend its reach and drive more traffic to your blog.
But it's also important to have a good balance of different content – inspirational or humorous posts, promotional posts, questions, tips, quotes, and so forth.
It's okay to share promotional posts, but generally it's a good idea to post more helpful and useful content than promotional content. Keep a healthy ratio intact, and you'll do well on social media.
Additionally, focus on sharing eye catching visual content more than anything else. After all, you're a lifestyle blogger. You should have lots of great photos and videos to share with your audience.
As you are likely aware, there are many social networks out there. Some of the best places for a lifestyle blogger to post to are: YouTube, Pinterest, Facebook, and Instagram, especially since these are visually-oriented networks. Don't ignore Twitter either – while it is waning in popularity somewhat, it's still a good place to share your content.
Keep in mind that video content isn't just for YouTube anymore. You can also upload your videos to Facebook (this can be powerful), upload clips to Instagram, and share them on most popular social networks.
Of any social network, Pinterest tends to drive the most sales. So, if you're in the DIY realm and want to show off some things your readers can buy, Pinterest is a great place to put some of your marketing efforts into.
Note: it's easy to get distracted by other people's social media content. The best way to approach your marketing activity is to limit the amount of time you spend on each network. You can also automate posting to most networks and simply check in once per day to interact with your audience, if you so desire.
Guest Post On Niche Specific Sites & Gain Relevant Visitors Clicking To Your Page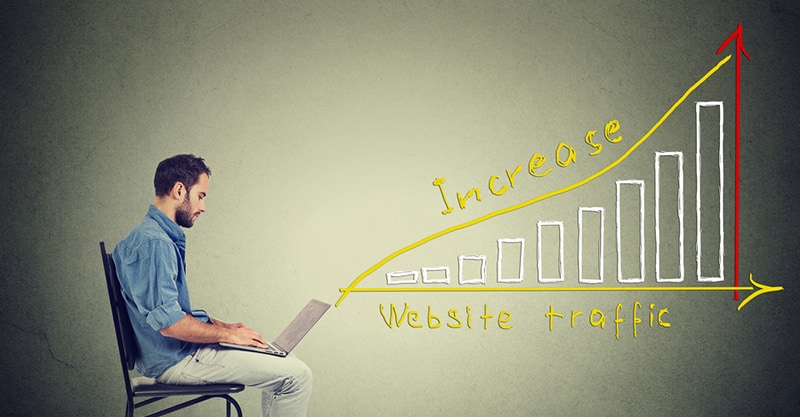 Guest posting is another great tactic for building your online presence and driving traffic to your blog.
Other bloggers have already built the audience you're trying to appeal to. So, by getting a piece published on their website, you can increase your chances of finding more targeted readers for your blog.
There are plenty of blogs that accept guest posts. The key here is to find ones that cover your niche. If there are any blogs you regularly read or follow, it would be worth looking into whether they accept guest posts, as you're probably familiar with their style. This makes it easier to create content that's catered to their audience.
Here are three lifestyle blogs that accept guest posts, but again, take time to pick out blogs that are already talking to your audience:
Aha!NOW: Aha!NOW is a site covering a variety of topics ranging from outfit ideas for women, tips for raising happy kids, and other topics like self-improvement, health and wellness, technology and gadgets, blogging and making money, and so on.
Mindbodygreen: Mindbodygreen is a massively popular site covering mindfulness, food, movement, health, relationships, lifestyle, beauty, and more.
ModernLifeBlogs: ModernLIfeBlogs covers blogging tips and SEO, social media, internet marketing, inspiration, lifestyle, health and fitness, travel, tech how-to guides, software reviews, and more. Perfect for the tech oriented lifestyle blogger.
SEO For Lifestyle Blogs, Doesn't Get Easier Than This
Search engine optimization (or SEO) is a continually evolving practice, and there's a lot of noise online about how to get search engines to rank your site.
The reality is that if you focus on the above three tactics, you've already won half the battle.
Publishing new content, sharing to social media, and guest posting on relevant sites will boost your SEO and help you become more discoverable online.
As I said earlier, every new piece of content is a new opportunity. Then, when you post to your social properties, search engines will see that, and you'll begin to see them increase in rank. And, if you're regularly guest contributing to other niche blogs, your link profile will improve. Getting high quality backlinks plays a significant role in SEO.
As with any optimization efforts, you can't expect to see drastic changes for six to 12 months. You may not see the fruits of your labor for that length of time, so don't become discouraged and give up. Just recognize that your hard work will probably pay off later.
One of the great things about being a lifestyle blogger is that you don't have to put all your time and resources into SEO. This would be rather unrealistic anyway – there are marketers who dedicate all their time to studying and staying up to date with SEO best practices. You can't be expected to do that, though if hiring is an option down the line, you might consider bringing on an SEO expert on your team.
The only other thing I would say is ensure the theme you're using is responsive and keep load times on your website low. This is a huge help with SEO.
How To Get The First 1000 Visitors To Your Lifestyle Blog Conclusion
If you follow the above tips, getting your first 1,000 visitors should prove relatively straightforward. Just keep doing the right things until you see your efforts pay off.
Once you get 1,000 visitors, just keep going! You should be able to keep attracting more.